This post may contain affiliate links and ads. Read our disclosure policy here.
Yesterday I told you about our adventures in the Inner Harbor in Baltimore, MD.  We had a fun time taking in the sites of the waterfront and spent a great night at our hotel.
Sunday morning we woke up early and after a yummy breakfast at the hotel, hit the streets to spend some time at the National Aquarium.  Personally, I have been to the aquarium probably 5 times before… various family and school trips.  Biker Bob had never been there and it was Lily Bean's first trip too.
The National Aquarium in Baltimore is truly an educational trip.  I remarked several time at how much information regarding the marine life, habitats, and ecosystems were on display.  While we made our way through the aquarium I noticed that several employees were set up at various tables and were sharing all sorts of worthwhile info- everything from buying safe seafood to endangered species.
As we walked we saw tank after tank of fish.  The middle of the aquarium has a HUGE tank filled with sting rays that you can both look down into and then when you near an end to the shark area there is an underwater viewing area to watch the rays.  We saw a diver in the tank feeding the rays- that's always fun.
We found this guy in the corner of the sting ray tank- what a giant cutie!  I think he was trying to sleep. :)
We visited the aquarium with some friends.  Their daughter is just 1.5 weeks older than Lily Bean and this was the first time they met.  It was instant BFF as they enjoyed the aquarium with a buddy their own age!  Here they are checking out some more fish.  I really liked how many of the tanks either had steps or were floor length.  The girls had a blast walking up to each one and pointing to various fish.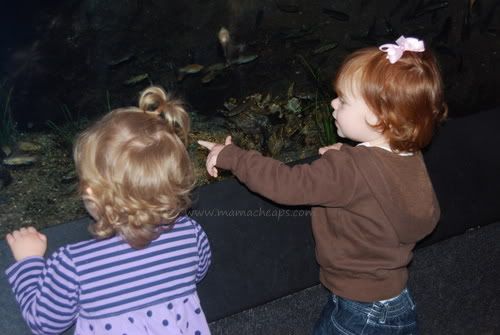 From there we went up to the top floor- the simulated rainforest.  If you can't tell from the frizz factor in my hair, this area is climate controlled to mimic the heat and humidity of a real rainforest.  Our favorite part was catching a glimpse of the cutest little ORANGE monkey who took one look at Lily Bean and scampered back into a tree.  (Okay, that was my 2nd favorite part.  My favorite part was when a bird dive bombed Biker Bob's head.  That was pretty funny.)
After the rainforest, we headed to part of the aquarium that houses the dolphins and the newest attraction, Jellies Invasion.  I find jellyfish fascinating.  I could watch them for hours– they kind of remind me of living lava lamps.  Know that I mean?  Clearly Lily Bean enjoyed the jellyfish the most as well.  She hopped from tank to tank checking them all out, all the while pointing and laughing.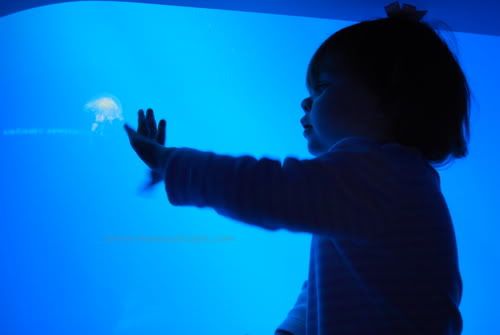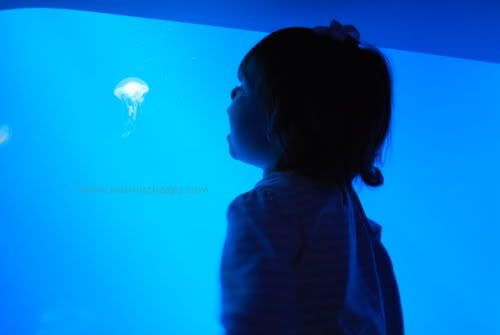 We had a great time at the National Aquarium.  One VERY important thing to note before you visit:  strollers are NOT permitted.  I repeat: STROLLERS ARE NOT PERMITTED.  You can't fault the aquarium too much for this-  instead of being spread out on one or two levels, the aquarium is a very high building with many escalators and moving sidewalks.  Strollers would be a nightmare.  So, unless you feel like carrying a non-walking child around (which I did see people doing), I would definitely recommend waiting to visit until your children can walk comfortably on their own for a couple of hours.
Tickets to the National Aquarium are $24.95 for adults, $19.95 for children 3 and up, and free for under 3.  For $3 more per ticket you can get admission to the dolphin show- performed several times daily.  There is also a 4D Immersion Theatre for another few dollars.
For discounts on tickets, my Facebook friends have suggested looking in Entertainment and other coupon books, and well as AAA offices.  I also have the insider scoop that the National Aquarium is considering a GROUPON offer for the fall!  That would rock!  From September to March you can enjoy "Fridays After Five"- every Friday from 5-8 p.m. tickets are just $8.  (The aquarium is open until 9:30.)
We made it through most of the aquarium in about 2 hours.  We were going to see the dolphin show, but Lily Bean was whooped from all of that walking.  We decided to quit while we were ahead.
What is your favorite part of the National Aquarium?
The National Aquarium provided us with a complimentary pair of tickets so that we could check it out and report back our findings.  All opinions are 100% ours.