This post may contain affiliate links and ads. Read our disclosure policy here.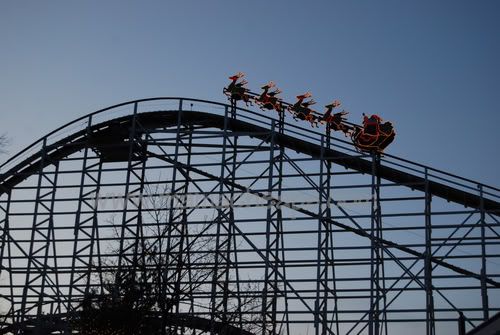 I want to share a rather humorous story with you. A few months ago, I contacted Hersheypark and requested a pair of media passes to the amusement park's annual Christmas attractions, something that I have never attended and I thought would be fun to showcase for all of you. A very polite PR rep replied back to me and let me know that they were working on my request. After a couple weeks of run around, someone finally got back to me and told me that they were sorry, but they could not give me tickets. She went further to explain that there were a very small number of media passes available and that they did not feel that my website was a great fit, as they do not consider their park to be a "bargain" park. Hmmm… This surprised me, as I had not intended to write a "bargain" attraction piece, rather a "here's something fun to do in PA at Christmas time" piece.
So here's what I decided to do.
We still wanted to check out
Christmas in Hersheypark
. It is a 2 hour drive from our house, totally do-able in one day. I decided to see
just how cheap
I could make a trip to this park- to see whether or not it is a bargain. (Keep in mind- I am NOT addressing regular park admission during the summer months- that admission is in the pricier category- around $60/ticket).
Food: Food and drink inside Hersheypark is typical of most amusement parks: pricey. We stopped at Wawa (regional convenience store chain) and picked up sandwiches and drinks. We planned our day to arrive at the park just after 12 p.m. (when they open) and figured on leaving around 5:30-6. Once we got within about 30 minutes of the park, we ate our lunches in the car. We brought snacks and drinks for Lily Bean, which we were allowed to take into the park.
Lunch cost: $10
We impulse purchased a funnel cake and small hot chocolate at one point.
Snack cost: $7
Admission: Hersheypark's Christmas rates are only a fraction of their summertime rates. Tickets are $10.95 (ages 3+) and kids 2 and under get in free. Lily Bean was free, and Biker Bob and I used $2 off coupons that we picked up at Dunkin' Donuts (also available at Giant grocery stores).
Admission cost: $17.90
Games and Rides: There were quite a few rides open- the majority of which were for young children. (The roller coasters were not open- too cold!) Rides are included with your admission ticket. Games typical of a carnival midway are scattered here and there- we played some skee ball and whack a mole.
Game cost: $10
Park Light Show: Beginning at 5 p.m. and playing every 30 minutes, the light show Noel features thousands of lights synchronized to several Christmas tunes. It was really neat, and included in the admission.
Light Show cost: FREE
Sweet Lights: This is a 2 mile wooded trail that you can drive through beginning at sundown. Tickets are $20/car, but there are several ways to bring that cost WAY down. 1) The same coupons that we found at Dunkin' Donuts also had $2 off of Sweet Lights coupons. 2) When you purchase park admission, you can buy a discounted Sweet Lights ticket- $16. 3) Pack more than one family into your car and split the cost. We purchased the discounted ticket ($16) and split it with our friends who rode along in our car. Note- think carefully about Sweet Lights before purchasing your ticket. We were NOT impressed at ALL. :( We headed over to Sweet Lights around 8 p.m., after eating dinner at a local restaurant. It took us TWO ENTIRE HOURS to get into the lights. By then, we were so annoyed and tired (and still 2 hours from home!!), that pretty much all excitement that we'd had was lost. Once you enter the Sweet Lights, there's no turning around- you're stuck in there for at least another hour. My recommendation- get there as soon as it opens. Hopefully you'll get through the lights while many people are still over at the park.
Sweet Lights cost: $8
Dinner: We chose to leave the park before eating dinner. Instead we went down the road a mile or two and ate at an Applebee's. It was cheaper than eating at the park and less crowded.
Dinner cost: $30
Entire Day's Spending: $82.90
Conclusion: Christmas in Hersheypark was really fun. We enjoyed the park rides and decorations. The event was well planned and everyone had a great time (minus the Sweet Lights debacle). I am still surprised that Hersheypark expressed concern about not wanting to associate themselves with the word "bargain." That seems a bit silly to me. In our economy, and with so many people looking for entertainment without breaking the bank, I don't know why they wouldn't want to push their affordability. The bottom line- while their summer attractions are more expensive, Christmas in Hersheypark is a budget friendly option for holiday fun. And if you follow some of my advice above, you can maximize your savings and easily spend a great day with the family for less than $100- not bad for an amusement park.