NOW is the time to start thinking about summer and winter clothing stock-up!
Reason #1: Many stores are currently clearancing all of their winter clothes. You will be able to find deep discounts on items like winter coats, gloves/mittens, hats, sweaters, sweatshirts, and other cold weather clothes. I know that sometimes it can be hard to guess or estimate what size your child(ren) will be wearing by the time next winter rolls around, but just do the best you can. Cold weather (especially up here in the North) can stick around from late September/early October through parts of April and even May- plenty of time to grow into the new duds.
Reason #2: Spring consignment season is now upon us!!! Make a list of the sales near you and plan your attack. If there is nothing that you are DESPERATE to find, I highly recommend going to sales that offer 1/2 off, discount, or dollar days. We will typically bring home BAGS of clothes and other kid goodies for about $25-$30. I'm always on the lookout for new items that can be given as presents, and big things like outdoor play toys.
On Wednesday, my friend and I hit up the outlets over in Peddler's Village. We found some fantastic sales and have already started to stock up for next winter!
At The Children's Place, pretty much all of the winter clothing was on clearance. We found fleece and hoodie sweatshirts for $2.99 and below. I ended up getting a pair of tights and fleece pjs for Lily Bean for next year.
Retail price: $15
I paid $2.98.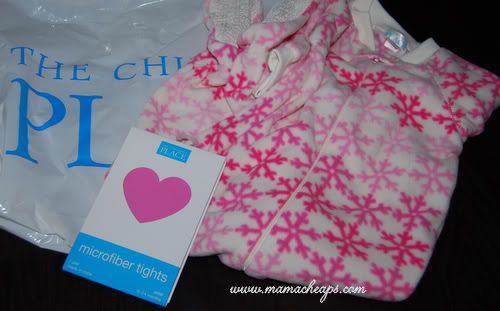 But the Osh Kosh outlet was where we found the SWEETEST deals… their winter clothes are clearanced and then you can take an ADDITIONAL 30% off the lowest marked price.
I bought a bunch of really cute clothes for Lily Bean for next winter. I bought holiday pjs that her elf can leave her on Christmas Eve (thanks, Jenny, for the great idea!)… shirts… hat and mittens… even a winter coat!! Now, this coat is 4T, so it probably actually won't fit her until the next winter but: it's brand new, totally adorable, originally $55, I paid $10.49. :)
Retail price for everything from Osh Kosh: $201
I paid $24.42.

WOW!!!!!!!!!!!!!!!!!!!!!!!!!!!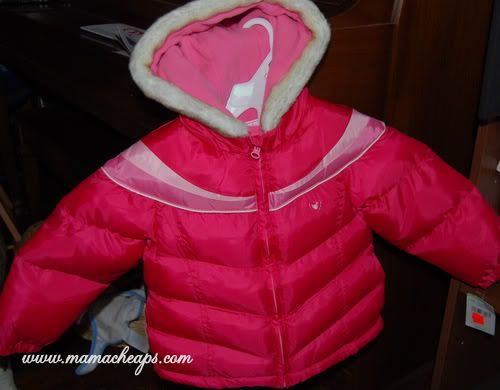 I paid $27.40 for $216 worth of clothes.
That's a savings of 87%!
What are your tips for finding the best prices on clothes? I'd love to hear them!