This post may contain affiliate links and ads. Read our disclosure policy here.
Every single week without fail I post links to drugstore coupon matchup highlights.  I usually don't give them much of a glance because I've never been that much of a drugstore shopper.  More and more though, I am realizing that I have been doing myself an injustice.  Drugstores are pretty much packed with products that you can take home for FREE (or for very VERY little money)… you just have to know how each store's saving program works.  Walgreens uses Register Rewards (RRs), Rite Aid used Single Check Rebates (SCRs) and CVS uses Extra Care Bucks (ECBs).
Back in the glory days Kmart would frequently run their super double campaigns that did NOT require a store loyalty card and did not come with so many stupid rules and stipulations attached to them.  It was always a great opportunity for us to stock up on health/beauty/household items for pennies on the dollar.
These days I do the majority of my couponing at the grocery store.  While you can still save big and even get free items in the health/beauty/household categories, the drugstores seem to be where the real savings party is happening for those products.
Last week I decided to try my hand at some CVS ECB shopping.  I want to show you how very simple it is to spend a minimal amount of money out of pocket to score some fantastic deals.
To shop at CVS, you only need to have one thing:  an Extra Care Card (they're free and you can sign up for one right in your local store).  If you choose to use coupons in addition to your card, you will increase your savings.
To save crazy big money at CVS you need to roll your ECBs from week to week.  That means you will take your ECBs (they work just like a store credit or gift card) from one week and use them to purchase item(s) that will produce more ECBs.  This limits your out of pocket spending and basically let's you play with CVS's "money."  Fun, huh?
Of course, you can save even more if you use coupons when they are available.  CVS will frequently have something on sale and offer the same amount of money in ECBs as they are charging for the item.  (For example, a Schick razor will be on sale for $6.99.  When you purchase the razor you will get $6.99 in ECBs to use on a future purchase.  Not let's say you have a coupon for that razor-  you've just turned that deal into a MONEYMAKER because you will get back more in ECBs than you spent on the product.  Coooool!)
Let me walk you through two super simple deals where I rolled some ECBs.
2 weeks ago I purchased:
2 Bayer Aspirin @ 1/each
1 Kotex U Tampons @ $4.99/each (produced a $4.99 ECB)
Total: $6.99 plus $4.99 ECB
I used the following coupons:
2 $1/1 Bayer printables
1 $1/1 Kotex U insert coupon
New Total: $3.99 out-of-pocket plus $4.99 ECB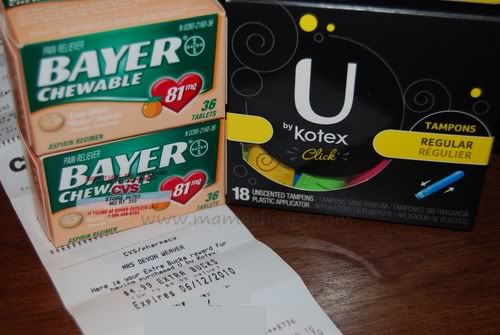 The following week I headed back to CVS.  I had my $4.99 ECB to put towards this week's purchases.
I bought:
2 Right Guard Deodorants @ $2.69/each (each one produced $2 in ECB for a total of $4 ECB)
1 Schick Hydro 5 Razor @ $8.99 (produced a $4 ECB)
Total: $14.37 plus $8 ECB

I used the following coupons:
1 $3/2 Right Guard Coupon
1 $5/1 Schick Hydro Coupon
$4.99 ECB from last week
New total: $1.47 plus $8 ECB
And there you go.  I used coupons and ECB to purchase new ECB generating items. That made it possible for me to walk out of a store with nearly $15 worth of product for less than $1.50 AND I still have $8 ECB to spend at CVS!  Even if you only pick up 2 or 3 items each week, it's worth it.
I look forward to continuing to roll my ECB to see my savings really add up.
As it now stands, here are my savings after just two weeks:
Total value of purchases: $21.36
Total out-of-pocket that I paid: $5.46
Total ECB generated: $12.99