This post may contain affiliate links and ads. Read our disclosure policy here.
Disclaimer:My family was not given any sort of compensation or credit for vacationing with Carnival Cruise Lines. The following review is based 100% on our own experience and opinions.
Background:
From 2/7/10 to 2/14/10, our family sailed on the Carnival Pride from Baltimore, MD to Florida and the Bahamas. Our group was made up of myself, Biker Bob, and Lily Bean, plus 9 other close friends and family. When the weekend for our big trip finally arrived, we all became quite nervous that the impending snowstorm would keep us from reaching the ship. We needn't have worried- the roads from the Philadelphia area to Baltimore were, for the most part, in great shape. The Port of Baltimore employees are to be commended for their AMAZING work in clearing the snow both before and during our vacation. We left home early, took our time, and arrived at the port to have only an hour or so of a wait before entering the plowed parking lot. We were on the ship enjoying our very first buffet by noon.
Cruise History
Biker Bob and I are cruise veterans. I first cruised in '97 to the Bahamas and since then have cruised with Biker Bob to Bermuda (2006) and Alaska (2007). This trip was our first time cruising with a child (but was by no means our first vacation with her) and was our first cruise with Carnival Cruise Lines.
Embarkation
Again, I've got to give credit where credit is due. Having received more than 2 feet of snow less than 24 hours before we were due to arrive at the cruise terminal, the employees of the Baltimore port did a phenomenal job clearing the snow from the parking lot. They even helped the previous week's travelers dig their cars out of the snowy mess. We parked, unloaded the car, and took a short shuttle to the terminal building with almost no issue (we somehow lost Lily Bean's beloved "Vinko" the bear figurine when folding up her stroller). Fortunately she is still none the wiser and will hopefully never realize his absence. Security, H1N1 screening questionnaire, and check-in were all a breeze. I was disappointed to learn at check-in that there is absolutely NO CHANCE to upgrade cabins within 48 hours of sailing. I wish I had been aware of this policy, because when we booked I reserved an inside cabin- remembering how dark and conducive to sleeping they are- perfect for a small child who naps. What I clearly hadn't given thought to was just how teensy tiny those cabins are. Perfect when we traveled sans kids, but quite the challenge with a Pack n' Play. I also neglected to think of how much time we would spend in our cabin. When you have a child who takes a daily nap, that's a LOT of cabin time. It would have been nicer to have a bigger cabin, perhaps with a balcony that we could have enjoyed while she napped.
We found our cabin and loved finding the special treats that our travel agent left for us to find.
Cabin (#7135: 7th floor, forward)
Do you like my nautical terminology? "Forward" is ship speak for "front of the ship." Impressive, no? Our cabin was just about as far front on the ship as they come. I must not have been looking at a floor plan when I booked, because my preference is always for the middle of the ship. That's the spot that experiences the least amount of pitching and rolling. But up there in cabin 7135 we experienced pretty much every bob and weave that our ship took. This included the last 24 hours when we ran smack into a huge storm coming off the coast- 80 mph wind gusts and 21 foot waves! There are two bits of good news: the first is that none of us get too bothered by motion and nobody needed a barf bucket. The other good news is that the constant feeling that the ship was taking flight beneath us really enabled Biker Bob and I to reenact that lovely scene from Titanic ("Jack! I'm flying!") pretty much whenever we wanted. I will say that despite the amusement park ride feel, a great thing about being so far forward was quiet hallways. The only people that ever walked by our room were the very few who had cabins past ours. Having been on cruises before with kids screaming and racing up and down the hallways, this was a nice change.
I did enjoy the bathroom size on the Pride. It was the largest bathroom we have had thus far on a cruise ship, and while still tiny by hotel room standards, I had arm room and didn't feel like I had to shower around a toilet.
The Facilities
The Carnival Pride was a nice ship, but not overly impressive. It was not too small, not gigantic. There were the usual cruise ship amenities- several pools and hot tubs, clubs, lounges, a casino, kid's club, theatre, a few shops, card room, chapel, miniature golf, water slide, and I'm sure a few other things I'm forgetting. The ship appeared clean and well-maintained, despite the outdated look of the decor.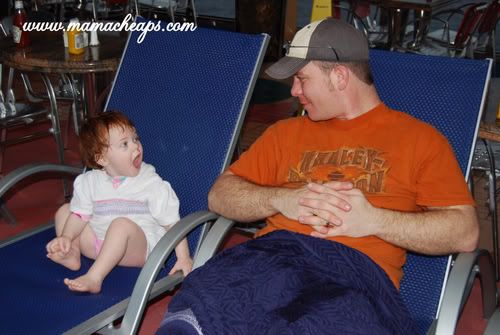 Service
I have yet to go on a cruise and find anything but polite and happy employees ready to treat you like royalty. This cruise was no exception. By the end of the week, at least a dozen staff members knew Lily and her cousin Ava by name. Everyone went out of their way to please us and make sure we were well taken care of.
The Food
One thing that I love about cruising is that all of your food is included. Alcohol, soda, and specialty foods are extra, but dining room, buffet, and room service food is available (and there are even options open 24 hours a day). I would say that the food on our ship was average to good. Some things were very good (I loved the peppercorn steak, Biker Bob drooled over the duck). Other things were just okay. The buffet offered a decent variety during most meals, but lines tended to be long and fellow cruisers seemed to frequently forget their manners. This was our first cruise where we signed up for "anytime dining." Instead of having a set time for dinner each night (and with that an assigned table, waiter, and bus boy) we opted for the more liberating option of heading to dinner whenever we felt like it with whomever we wanted to dine with between 5:45 p.m. and 9:30 p.m. While this allowed us a little more freedom and flexibility (much appreciated when traveling with a small child), we found that we missed some of the camaraderie with the wait staff that a set dining time produced.
Every staff member that we encountered, both in the main dining room and at the buffet was polite, cheerful, and went out of their way to accommodate us. The only mis-communication that occurred was in the dining room on the first night. It was my sister's birthday and despite both her and I arranging for a cake to be brought out to her, we were told they could not bring a cake, but just a small (rather stale) slice of cake. Not sure what happened with that, but it kind of stunk. She was really looking forward to a cake. When we cruised to Bermuda, our wait staff surprised Biker Bob and I with a "Happy Honeymoon" cake. It was fun and a greatly enjoyed extra.
The ship has a separate restaurant, David's Steakhouse, that has received some amazing reviews. For $30/person you can enjoy their quiet, intimate atmosphere and first class cuisine. We did not make it to David's (we opted to spend our night of grandparent Lily-sitting in casual mode with dinner outside and then a wonderful stroll around the deck). However, more than half of our group was able to dine at David's and all agreed that it was fantastic and well worth the money.
The Entertainment
Shows and activities on board the Pride were on par with other cruises (some were exactly the same, for example the Love and Marriage show and The Quest adult game show). Once again, having a small child along for the trip meant less activity joining for us and earlier bedtimes. On the day we left, the ship threw a huge party in the big theatre for the Superbowl. We stopped by on our way to put Lily to bed- it looked fun!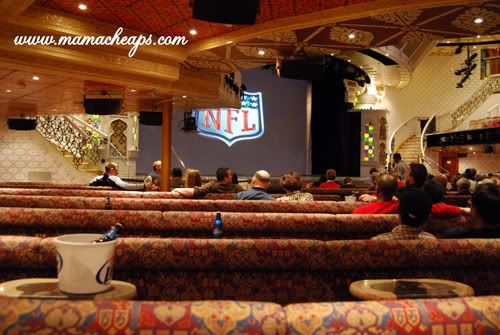 I was extremely disappointed that many nights only had one show in the theatre- some starting as late as 10:30 p.m. Come on! Give us something to take the kids to. In the past, our cruises have offered 2 showtimes- one around 6 p.m. for the folks with late dinner seating and a 2nd around 8 for the people dining earlier. It's really a shame that the Pride had such a crummy show schedule. Lily Bean LOVES to bop and dance and sing- and after a day of pulling our hair out trying to entertain her (see below), a show would have been so fun for her.
The Itinerary
Okay, explain something to me. Why on Earth does it take from Sunday evening until Wednesday MORNING to get from Baltimore to Florida?? Truth is, it doesn't. The ship just crawls along at a snail's pace to draw out the trip. The first two days of the trip are at sea. After about one day at sea, chances are good that you are starting to climb up the walls. I enjoy shore days much more than at sea days, so the 2 days in a row of being at sea were more than plenty.
Our first day on land was in Florida. We docked in Port Canaveral (right next to Cape Canaveral) from 7 a.m. to 7 p.m. We had complimentary passes to Disney World, so it was time to introduce Lily Bean to the Magic Kingdom. While I'm not a huge Disney fan, I had no problem getting into the Zippity Do-Dah spirit for Lily. Rather than pay the $150 that the ship wanted for a Disney trip (and because we already had our tickets), we actually rented a car with my aunt and great aunt. The rental (including EZ-Pass, toddler car seat, and damage waiver ) came to about $100. Split between us, we spent $50 to go to Disney World for the day. I can't complain one teensy bit about that. Lunch ran us about $25, snacks about $5, and of course souvenir Minnie Mouse ears for Lily were $20 by the time we finished accessorizing and personalizing them. When all was said and done, we had about 5-6 hours in the park. It was the perfect amount of time for a 17 month old. She enjoyed herself (I think I shed an actual tear when she ran with open arms to meet Winnie the Pooh, Eeyore, and Tigger), and we enjoyed watching her.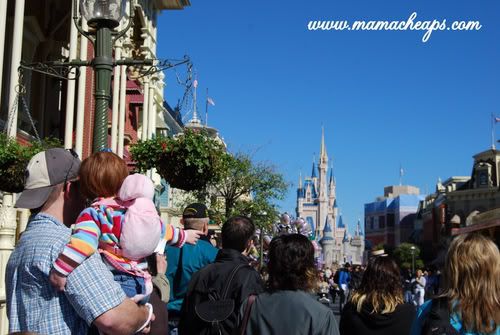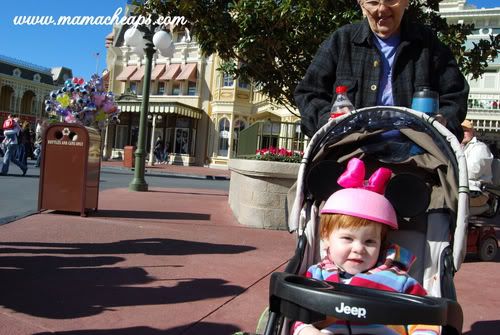 The next stop was Nassau, Bahamas. Whelp. My memory served me pretty well from my previous trip there. You can find some very pretty spots in Nassau- but you may have to traipse through some yuck to get there. When you travel to Nassau, just keep these three words on the tip of your tongue, "NO, THANK YOU." (You may even just want to resort to a simple, "NO!") From the hair braiders to the t-shirt vendors to the taxi drivers- you will be solicited for anything and everything under the sun. Do not be a sucker and do not feel bad saying no. We decided against a ship shore excursion and actually reserved a day pass at the British Colonial Hilton Hotel. For $40/adult (kids 5 and up are less and kids under $5 are free) you get: use of their private beach, pool, bathrooms, towels, beach chairs, plus a $30 food voucher. It was a good deal, despite the water being a bit too chilly for us. The scenery was very pretty- though we were less than thrilled to find several pieces of glass lodged in the sand by the water.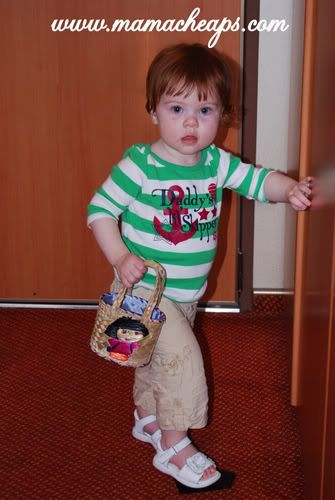 Our third and final day was a short docking (7 a.m. to 2 p.m.) in Freeport, Bahamas. This time we did go on a ship tour- a glass bottom boat excursion. We had a blast! It was our first glass bottom boat adventure- we saw so many fish! We also passed over a shipwreck. But the highlight of the trip by far was the sighting of several tiger sharks over one of the reefs we stopped at. The tour was kid friendly and kids under a certain age were free (3? 5?). The remaining couple of hours in Freeport were spent exploring the Port Lucayan Marketplace. I tried to (unsuccessfully) haggle prices for a couple of t shirts for Lily Bean .We ate some conch fritters (tasty!) and just enjoyed time as a family.
We spent one final day at sea on the return leg. Yes, I know what you're thinking- it takes 2.5 days to get from Baltimore to Florida, but only 1.5 days to get from the Bahamas to Baltimore….riiight. Carnival needs to consider adding another shore day to its itinerary and losing one of the At Sea days. 3 days at sea on a 6 day cruise is a LOT of ship time.
Weather
As I stated before, we hit a whopper of a storm on the return trip. It was the rockiest that we have ever experienced on a cruise and it was so treacherous, the captain actually had to re-route us a bit for safety concerns. Think carefully before planning a winter trip out of the Northeast. We didn't.
Winter in the northeast is cold, snowy, and usually comes with frigid winds. When your cruise includes 6 full days (3 of which are spent docked at a port of call) you have THREE days left to be on the ship. Actually, 3.5 days because the 3rd shore excursion day we pulled up anchor at 2 p.m. There was no sun, there was no using the outdoor pools (where the one and ONLY baby pool was located), in fact, more than half the time the decks were CLOSED due to high winds. That really stunk. I felt like we only got half a cruise thanks to the bad weather. So again, think carefully before you book your cruise. If you don't mind spending your days at sea stuck in the ship on the way to warmer weather, you'll be fine. If you want warmer weather the entire trip so that you can actually soak up some sun each day, either take a winter cruise out of a southern port (like FL or TX) or take a summer cruise out of a northeast port.
Traveling with a Child
Carnival is going to get a few red checkmarks here. First of all, way back last summer when we booked this trip, I was appalled to learn that Carnival CHARGES for BABIES to travel. Let's get something straight here: Lily Bean is currently 17 months old. The Carnival Fun Ship kid activities are only available for kids 2 years of age and older. Meaning? We had to pay the full 3rd passenger rate to take Lily on a ship that really offered nothing for her. Her passage cost about $350. For what? She didn't sleep on a bed; we brought her Pack 'N Play. She barely ate any food (though she did annihilate a good many dinner rolls).
Our inside cabin was like other cruises we've been on: TINY. This would have been fine and dandy for Biker Bob and I, but with a baby it was sardine-can-tight. Oh yeah, and when you are trapped in a tiny shoebox room with a baby who needs to nap and go to bed 3-4 hours before you do, have fun sitting there in the silent dark waiting (praying) for her to go to sleep. Then drape a comforter over her Pack n' Play so you can turn the lights back on and at least read a book or something. I really wish a larger room had been suggested to me to make things a little easier. A balcony room would have been nice as well- weather permitting we could have even enjoyed the scenery on the balcony while a certain little girl fell asleep. When I booked our trip, the only real thought on my mind was to keep the cost as low as possible. In retrospect it would have been well worth shelling out a bit more in exchange for greater comfort.
Like I said before, the Pride's youth program offered absolutely zero for Lily and my 10 month old niece. (Despite the fact that they were both paying customers.) On our first day at sea we figured that they could at least go for a swim in the ship's only indoor pool. Wrong. They were kicked out of the pool because they are not yet potty trained. Apparently they were only allowed in the baby pool located outside. The weather was too crummy each and every day that we were at sea to use the baby pool. Big thumb's down to Carnival for not providing more baby/toddler friendly activities. There were quite a few "under two" passengers aboard our ship- it would have been nice to have had something fun to do with them. Indoor baby pool, indoor playground/play area, story times or other activities. Bottom line: If you are going to charge us $350 to bring them along ($100 of that charge was the actual cruise, the remaining charges were taxes and port charges) you should be providing something for them to do, besides walking the ship and waving at the glass elevators.
Also: I honestly think that Carnival should put a disclaimer on their ships noting the lack of programs for the under 2's. Our shore excursions were fabulous b/c WE were in charge of them. IF we cruise again with young children (might stick to our road trips for now) we will definitely be choosing a more child-friendly line, for example, Disney, where kids cruise free on some Bahamas cruises. When you advertise your entire company as the "fun ships" with fun for all, you should have the activities and facilities to back it up. I also never saw a diaper changing station in anyof the bathrooms. Returning to our cabin every time we had to change a diaper was ridiculous.
Final Thoughts
All in all, we enjoyed our time aboard the Carnival Pride. We liked the casual atmosphere and the choice to be as involved or as carefree as we desired. An improved itinerary and better toddler facilities topped our suggestions list while food choice and staff friendliness impressed us the most.
If asked to compare this cruise with previous ones, I would give the service an A+. However for the overall cruise experience, I'd probably say a C+. There was certainly room for improvement in almost every area, especially when having other cruises to compare it to.
The best part of the entire trip? Spending an incredibly fun week with my even more incredible family. We made memories that will last a lifetime, and that will pave the way for future trips. It was blissful to truly unplug from life for a whole week. No email, no internet, no cell phone… just 7 days of uninterrupted fun with those nearest and dearest. I can't think of anything much better than that.
Oh yeah… remember those days that we skipped around Disney World and then soaked up the sun on a Caribbean beach? During that time our home was pummeled with a blizzard in actual white out conditions… receiving 2 feet of snow on top of the 15 inches that fell right before we left… you could say that added a little more happiness to our travels!!