This post may contain affiliate links and ads. Read our disclosure policy here.
A few months ago I was doing my daily Groupon search- checking out my city and other cities nearby (or that we might be traveling to).  I came across one that was particularly interesting.  For just $62, I could get a one night stay in a 2 room suite at Brookshire Suites in Baltimore, MD.  A very upscale hotel, this room (on a Saturday night) would normally fetch upwards of $200 plus tax and parking.
We jumped on the offer and bought the Groupon.  (This was back in February.)  We had to use the Groupon by the end of April (every Groupon has its own expiration date…some are valid for a year, some for a few months).  We booked a suite for the last Saturday in April and figured we would explore the Inner Harbor area with Lily Bean.  Booking was seemless- the reservation desk knew all about the Groupon and quickly arranged our stay.
In the months that led up to our trip, I continued to check the Groupon for Baltimore each day.  I was hoping to find a great deal on a dinner option for our stay-  I did!  (More on that below!)
We hit the road around noon on Saturday and had a nice easy drive to Baltimore. We live about 2.5 hours away by car and arrived by 2:45 p.m.  We decided to stop at our hotel to see if our room was ready.  It wasn't, but we were able to check our luggage with the bell hop and turn our car over to the valet.  We were only 1 block away from the Inner Harbor!  This was fantastic news- it meant that our car could stay put during our trip, which would save us on paying multiple parking garages.
We walked over to the Inner Harbor and spent about an hour just exploring watching our new surroundings.  We saw a musket demonstration from some Civil War reenactors on one ship and watched as another ship set sail right in front of us.  Lily Bean was content to chase bird… after bird… after bird!
The Baltimore Inner Harbor is a really neat place that has a lot to offer for everyone, including families.  There are lots of shops and some SAVORY restaurants (The Cheesecake Factory and Phillips Seafood top my list!).  You can explore any of 2 ships and 1 submarine (charges apply).  You can rent a paddle boat or electric boat and spend some time cruising around on the water.  Then there is, of course, the National Aquarium.
One note about the Inner Harbor: while it has majorly cleaned up its act in recent years, there are certainly still some unfavorable characters lurking around.  Keep your head about you at all times and store your money or other valuable close to you.  There was a good amount of security patrolling the area, and I felt safe at all times.  But definitely be aware of scammers and other troublemakers if you wander to far off the beaten path.
Scenes from the Inner Harbor: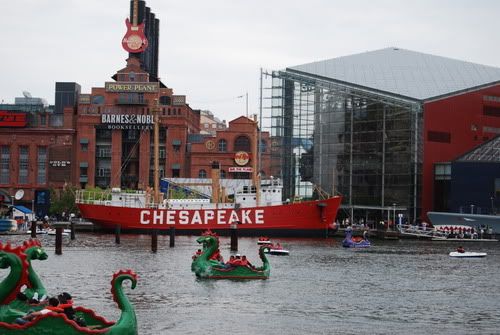 Obligatory Daddy-walking-with-Lily-Bean shot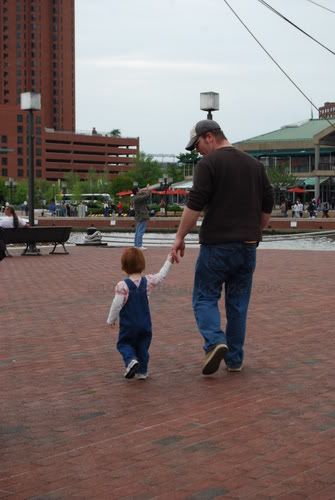 After we saw the sites and sounds of the Inner Harbor, we decided to grab dinner before heading to our hotel.  Enter Groupon #2!  We ate dinner at California Tortilla (or "CalTor" as we learned it is called by locals!).  The Groupon offer for CalTort was $6 for $12 worth of food and drink.  Limit 1 per person.  I bought 2 and Biker Bob and I each bought our own meals.  We bought: 1 burrito, 1 burrito bowl, 2 sodas, 2 chips and salsa, and one "Kids-a-Dilla" kid meal for Lily Bean.  Our total after Groupons: $1.  Yeah!!
After a delicious dinner, we hiked it back to the Inner Harbor ONE MORE TIME.  I actually mapquested all of our walking that day- we walked a little over 2 miles!  I was happy to have that bit of exercise under my belt because our last stop was… The Cheesecake Factory.  We got ONE piece of cheesecake to split for dessert back at the hotel.  That SINGLE slice cost a whopping $7.45.  I definitely felt better about the splurge knowing that we had saved so much money on dinner!  p.s. I won't even tell you how many Weight Watchers points were in that one slice.  You would faint dead away.
Finally it was time to make our way back to our hotel.  We got our room keys quickly (and also noticed that BOTH couples waiting in line behind us were ALSO using Groupons!).  Our suite was beautiful!!! You may remember that after the cruise cabin fiasco, we decided that from then on we would always get a suite while traveling.  We're okay with trading a little more money for the comfort and sanity that the two rooms provide.  Lily Bean can have her room, and Biker Bob and I don't have to go to bed at 7 p.m. each night.
Here are some pictures from our hotel suite… and a sneaky Lily Bean as well.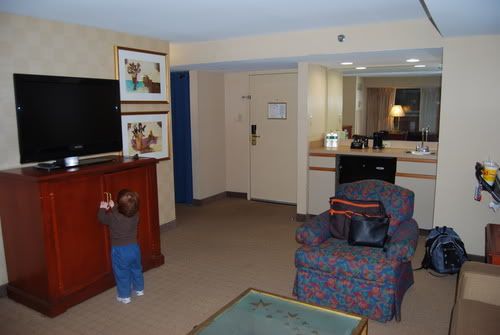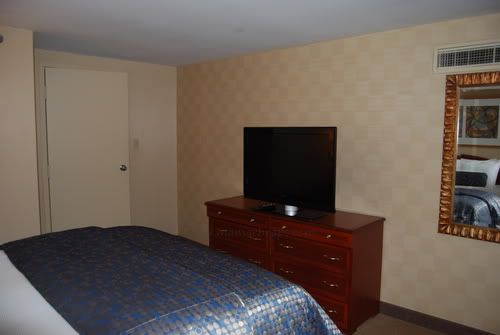 Obligatory Lily-in-a-window shot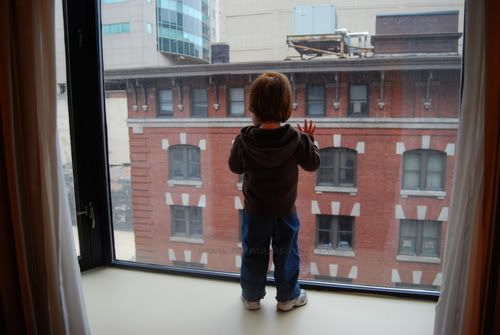 We really enjoyed our stay at Brookshire Suites.  In the morning we received a complimentary breakfast buffet in their restaurant.  There were plenty of cold and hot choices- everyone was able to find something yummy.
The only thing I found annoying was the fact that the hotel did not offer free WiFi (or any WiFi for that matter).  I really feel like this day in age free WiFi should be considered a standard, basic amenity.  Apparently our room did have internet via ethernet cord, however I could not get ours to work.
Stay tuned tomorrow to check out our trip to the National Aquarium!
p.s. Did you check your city's Groupon today?  What the heck are Groupons?